Have You Been Diagnosed with 9/11-Related Cancer?

Do you qualify for a claim with the September 11th Victim Compensation Fund?
The World Trade Center Health Program will soon add Uterine and Endometrial cancers as covered illnesses for eligibility to the September 11th Victim Compensation Fund.
Following the September 11, 2001 terrorist attacks and the destruction of the World Trade Towers, a toxic environment developed and persisted within lower Manhattan. In the 9 months after the 9/11 tragedy, many people in the area, including first responders, residents, area workers, families of victims, students, and volunteers were exposed to toxins in the air.
No law firm in the country has represented more families in the original Victim Compensation Fund than Kreindler & Kreindler.
The September 11th Victim Compensation Fund (VCF) was created by Congress in 2001. The VCF offers compensation to those who were present in the exposure zone, which roughly includes the area south of Canal Street between the East River and the Hudson River and has been diagnosed with a 9/11-related illness. Eligible participants must provide proof of presence in the "Lower Manhattan Exposure Zone" between September 11, 2001 and May 30, 2002, or presence at the Pentagon or Shanksville, PA crash sites.
Are you eligible to collect
9/11 Cancer Compensation?
Do I Qualify?
Over 70 different cancers and respiratory illnesses are covered by the 9/11 VCF, they include:
* information provided by World Trade Center (WTC) Health Program, as of June 30, 2020
Skin cancer - melanoma & non-melanoma

Lung Cancer

Multiple Myeloma

Prostate Cancer
Thyroid Cancer

Leukemia
Endometrial Cancer
Kidney Cancer

Rhinosinusitis

Sinusitis
Colon Cancer

Esophageal Cancer

Breast Cancer
Asthma

Chronic Rhinitis

Esophageal Reflux

Obstructive Sleep Apnea

Sarcoidosis
Uterine Cancer
No One Has Helped More 9/11 Victims Than Kreindler
To this day, cancer and respiratory illnesses continue to be diagnosed in people who were present at some point in the nine months following 9/11. For people who have a diagnosis and can prove their presence during this time period, money might be available through the government's September 11th Victim Compensation Fund (VCF).
So many of those who believe their health was impacted by 9/11's toxic dust, and who did their research, chose attorney Noah Kushlefsky and the 9/11 WTC law firm Kreindler. Thousands of clients have already received their monetary awards.
Mr. Noah Kushlefsky is the best and most knowledgeable attorney for the Victim Compensation Fund in the NYC area. Once Kreindler & Kreindler received the money, my money was wired into my account in less than 24 hours.
---
Kreindler Has Been Helping Victims of 9/11 Since the Beginning
Led by Managing Partner Noah Kushlefsky, New York City-based Kreindler has been relentless in its dedication to this highly-specialized field of law. No other law firm in the world has more experience and resources dedicated exclusively to representing Americans injured or killed as a result of the 9/11 terrorist attacks. Our dedicated VCF legal team works exclusively on VCF cases, all day, every day.
We have the most resources and team members dedicated solely to helping victims and their families navigate the September 11th Victim Compensation Fund than any other firm. To learn more about our VCF practice and see if you qualify for compensation, please visit our dedicated website, wtc-illness.com.
Special Master Kenneth Feinberg, who was appointed by the president to run the VCF, has credited Kreindler & Kreindler attorneys with being "instrumental" in developing the regulations and methodologies used for calculating compensation awards and in the general success of the Fund. Additionally, New York courts have found that Kreindler's representation of clients in the VCF dramatically increased their awards beyond what they would have otherwise received.
---
Kreindler has Worked for 9/11 Victims Since September 11th
Managing partner Noah Kushlefsky has been working for 9/11 victims and their families since 2001. In 2010, Congress created the James Zadroga 9/11 Health and Compensation Act to compensate people made ill from the toxic dust at Ground Zero. At its inception, Noah was asked to play an instrumental role and work with government officials to address the complicated legal and practical issues involved in the administration of the Fund. Today, VCF officials, administrators and private attorneys familiar with the fund all recognize Noah's longtime commitment, dedication and knowledge of the September 11th Victim Compensation Fund. To date, Noah has recovered billions of dollars for victims of the 9/11 terror attacks and its toxic aftermath.


Although many are only now learning about the Fund, thousands of people continue to be diagnosed with cancer and respiratory illnesses that are compensable by the September 11th Victim Compensation Fund and may continue to be eligible for new diagnoses until the year 2090.
---
Experience Kreindler Teamwork - from Contact to Compensation
Starting with your initial contact with our office, a process begins which is designed to ensure that we completely and thoroughly gather all of the information necessary to obtain maximum compensation for you based on your individual circumstances. However, our work for you does not end with compensation. Under the rules of the VCF, any claim can be amended to reflect the onset of a newly diagnosed injury or a change in circumstances.
Thank you. You have been unbelievable to my family. I have no financial worries because of you.
We understand how important your case is to you. This is reflected in our representation of you, as we focus on the individual facts and circumstances surrounding your claim. Ultimately, our goal is to make each client feel like our only client. We have the largest experienced team of any law firm in the country dedicated exclusively to representing victims in the 9/11 VCF. We work closely with the Fund itself, advising and helping to shape the process to yield fair and accurate results.
---
About Kreindler & Kreindler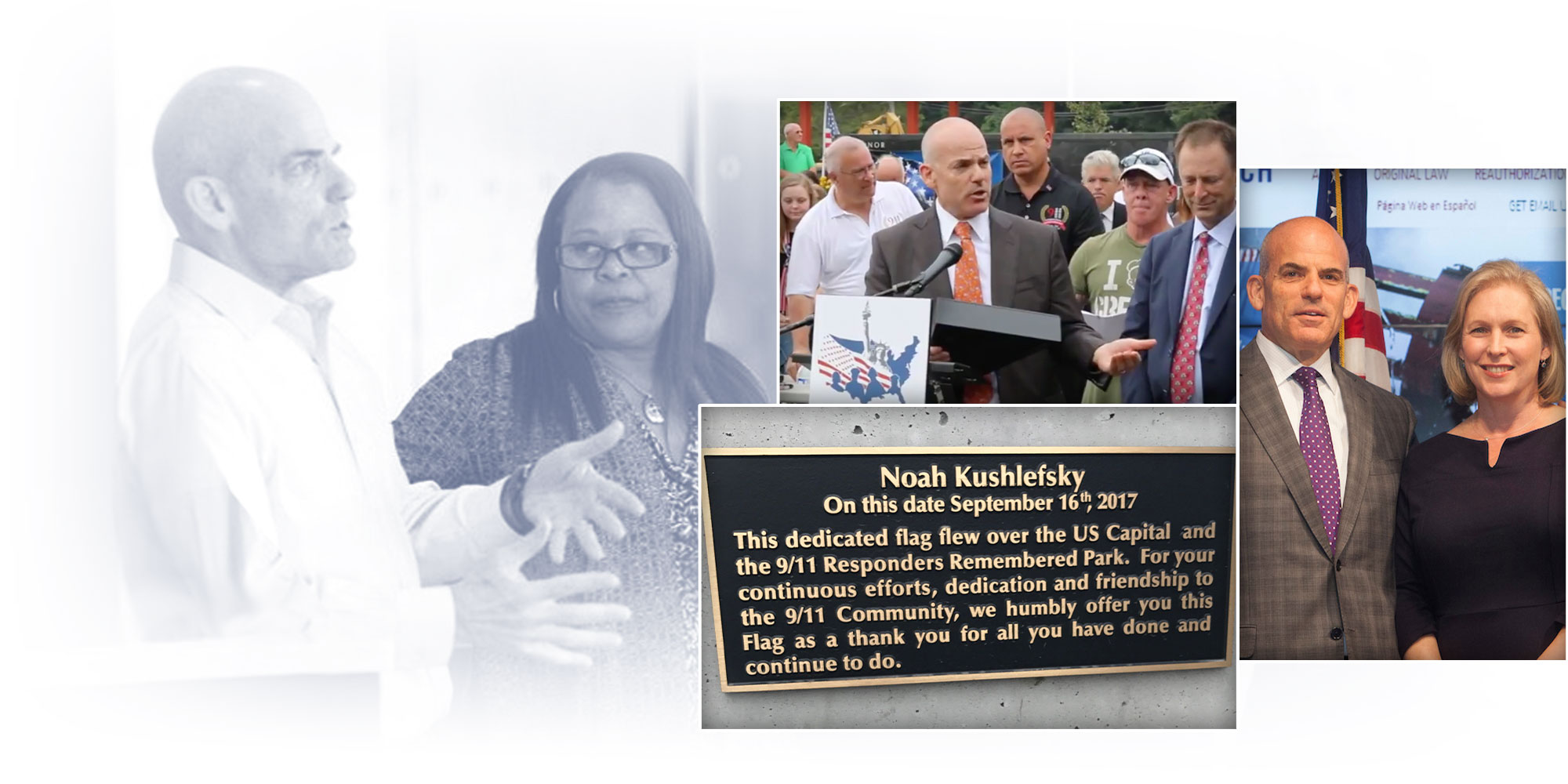 Kreindler & Kreindler is one of the world's leading personal injury law firms. Based in New York City, Kreindler was founded in 1950 and specializes in aviation accident law. Right after September 11, 2001, our law firm began responding on behalf of victims and their families who were injured or killed in the 9/11 terror attacks. Within a few years our mission transformed into also helping families and victims devastated by cancer and illnesses related to the conditions in Lower Manhattan near Ground Zero.
Do I have to prove my illness was caused by 9/11?
Does my diagnosis and my proof of presence make me eligible for compensation?
When is the deadline to file a claim?
Our dedicated VCF team is prepared to help you with your claim. We'll explain how we can help you claim the maximum monetary award you may be entitled to. Whether you've been diagnosed or not, you can start by answering a few brief questions.
---
Long-Term Health Effects Are More Serious Than Expected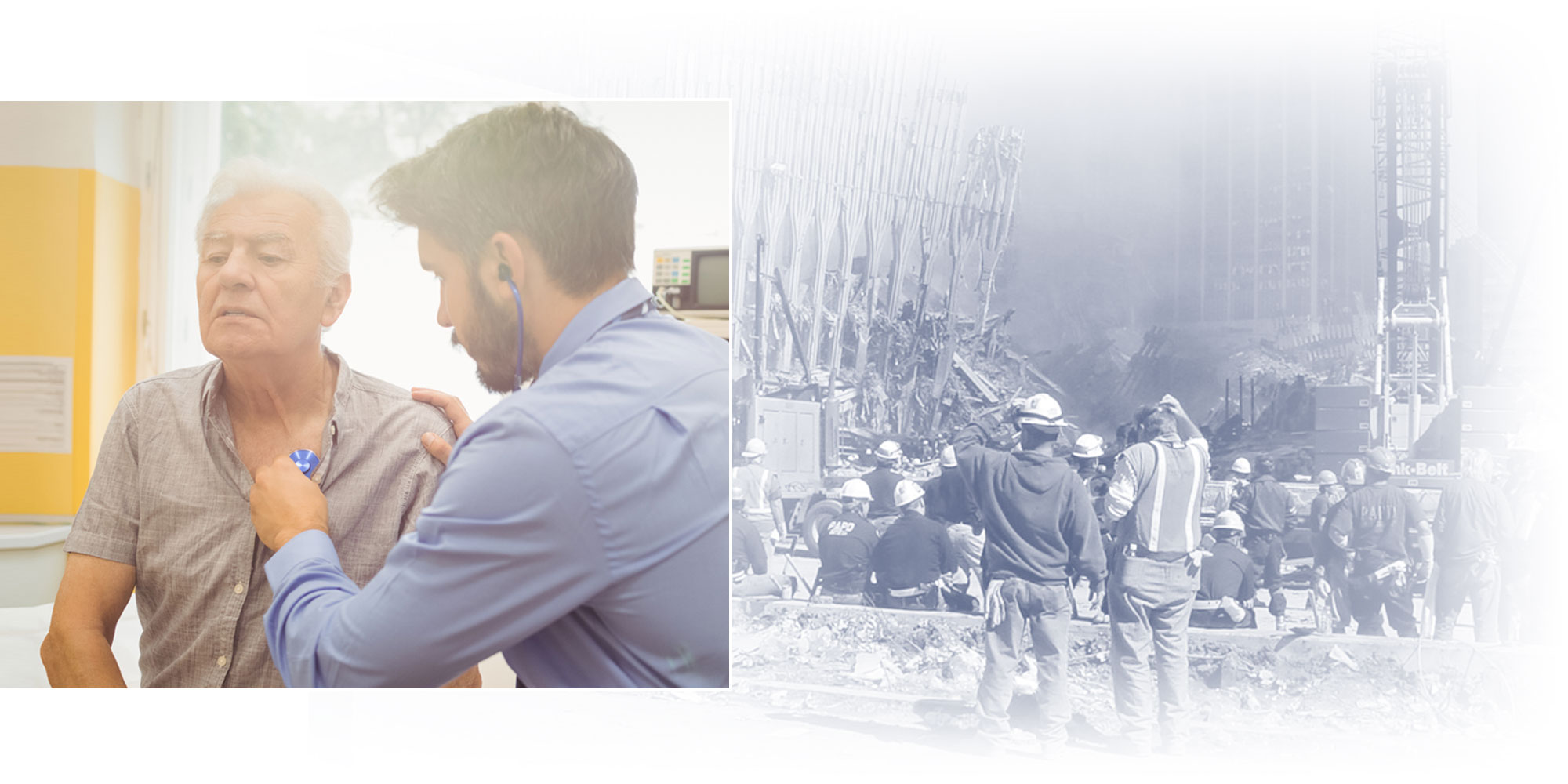 For years following 9/11, numerous types of cancer, as well as respiratory illnesses, have been on the rise for people exposed to the air below Canal Street in the months following the tragedy. When people saw their doctors for a persistent cough or trouble breathing, their diagnoses – and the expensive treatments – may have come as a surprise. For many, a connection to the 9/11 attack never even occurred to them.
As new cases of cancer continue to be documented, many people are now realizing that first responders aren't the only latent victims of the terrorist attack. Hundreds of thousands of people were exposed to the toxic air and continue to be diagnosed with cancer today.
---
A Cloud of Toxic Particles Engulfs Lower Manhattan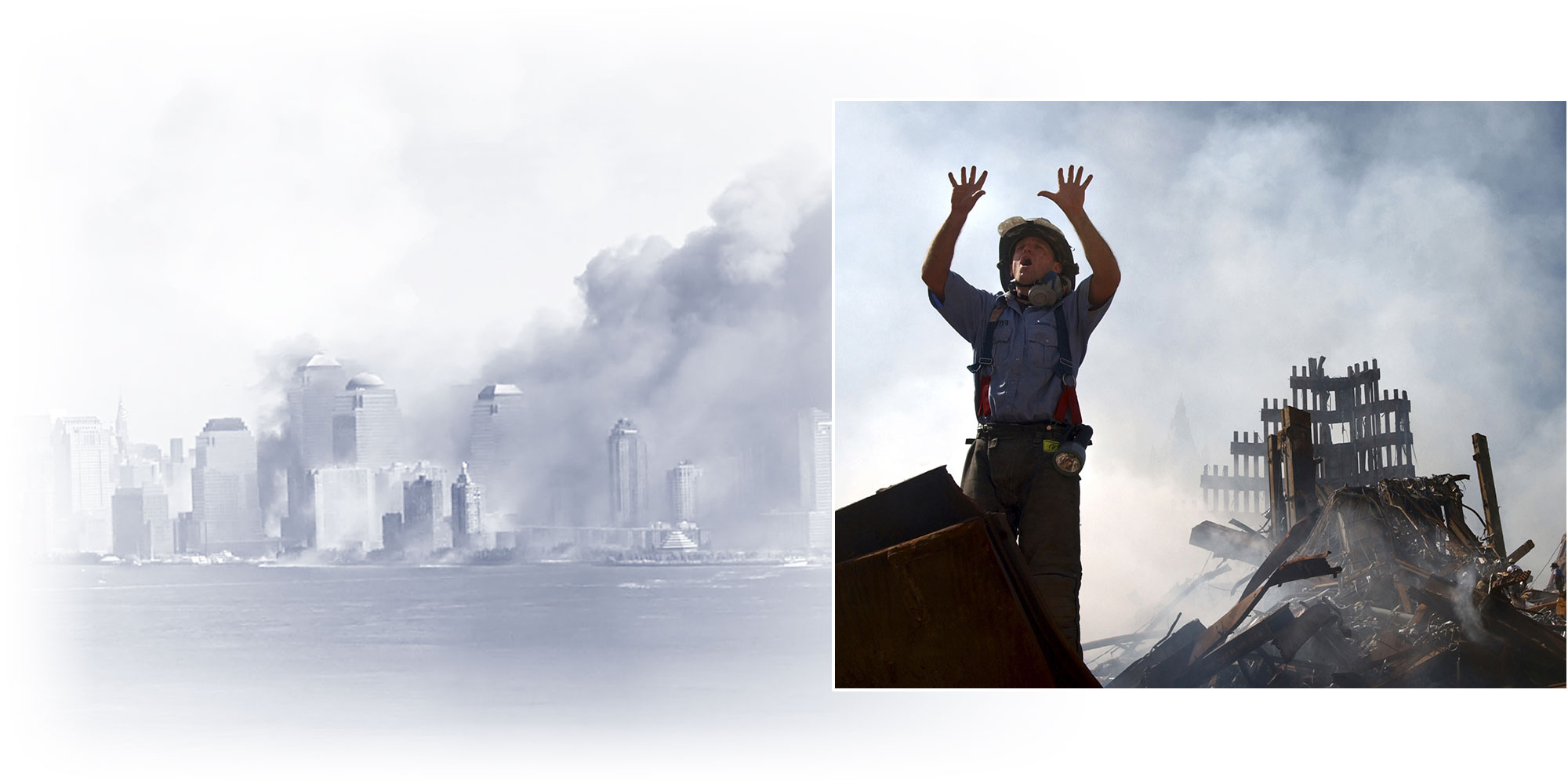 The 2001 collapse of the twin towers produced a noxious fog of burning plastic, asbestos, fiberglass and jet fuel. This foul, carcinogenic mixture was inhaled not just by 9/11 responders, but by up to half a million people who lived in, worked in, attended school in or visited lower Manhattan in the nine months following September 11, 2001.
Fires at ground zero burned for 90 days, continually releasing contaminants into homes and public buildings. This toxic dust settled into the rooms, offices, furnishings, HVAC systems, and most tragically, into the lungs of New Yorkers, visitors, workers and students who were exposed to it.
---
Were You Present in the 9/11 VCF Exposure Zone?
An individual must merely have been present at the 9/11 crash site, Ground Zero or anywhere within the Lower Manhattan Exposure Zone and diagnosed with a physical illness or injury. If you were present at any of the designated areas between September 11th, 2001 and May 30th, 2002 and have been diagnosed with a qualifying illness or injury, you may be eligible for compensation through the Victim Compensation Fund (VCF).
Exposure Area:
World Trade Center area
Lower Manhattan - South of Canal Street
Staten Island Landfill
Barge Loading Piers
Office of the Chief Medical Examiner
PATH Tunnel
The Pentagon
Shanksville, PA Crash Site